How Can I Book My Seat in SpiceJet?
13 May, 2021
Category:

Travel tips
Author:

Travomint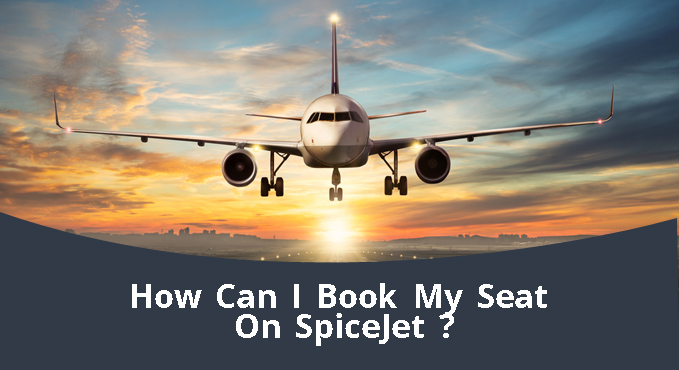 How Can I Book My Seat in SpiceJet?
Air travel has become quite an adventurous and exciting way of traveling. Due to the convenience, it offers, more and more people now prefer to travel via plane. Air travel also adds luxury to the air journey.
Airlines have made every process of flight booking easier. Hence, you can book your flight on your own and can make changes to your reservation as well. Now, while traveling via plane, everyone wants to sit on the window seat and if not the window seat, then the second-best seat.
It is not practically possible for everyone to get a window seat, but with SpiceJet, you get a chance to book a seat for yourself. SpiceJet has always been considerate towards its customers. Therefore, it provides the best flight policies. So, let's see how you can select seats in SpiceJet.
Steps to book a seat on SpiceJet-
Go to the official website of SpiceJet through your web browser, or open the app of SpiceJet.

Click on the option of Web Check-in.

Read and accept the terms and conditions given there. Then, click on the Continue button.

You will be prompted to select the departing city and you will have to enter your PNR number.

If you fill in the correct details, you will be made to select the passenger(s).

Select the passenger(s) who are to check-in and you will be directed to the seat map of SpiceJet.

You can then select your desired seat, once done, you will have to enter the details of the passenger(s) and seat number.

Add the baggage, and then you can continue to confirm the process. Then you will be made to print your boarding pass, and bag tags and customer copy.
How Can I Select My Seat Assignment In SpiceJet?
In the seat assignment, each ticket is assigned a seat at the time of purchasing a flight ticket. If you are flying with SpiceJet, and you want to know how you can select your seat assignment in SpiceJet, then you will find the below-mentioned points useful.
You can select your seat assignment in SpiceJet online while booking a flight for yourself.

You can also call the reservations team of SpiceJet to select a seat assignment.

You can call the customer support team of SpiceJet in case you need any help during the process.
So, you can follow the above-mentioned steps to select seats in SpiceJet. Or you can contact the customer service of SpiceJet if you need any assistance.
Which Is The Best Seat In SpiceJet?
Typically seats that are close to the front, exit seats, and window or aisle seats are considered the best seats by the passengers on a plane. However, if we talk about SpiceJet, then the seats from the 1st row to the 7th row have been reported the best. You can choose any seat from 1st to 7th row and you will get the best seat.
So, that's quite the information you need to have the best seat in SpiceJet. Have a happy journey!
Related Blogs:
What is SpiceJet Baggage Policy?
Does SpiceJet have a business class?
How Do I Cancel My Spicejet Ticket?
How Can I Reschedule My SpiceJet Flight Ticket?
How Can I Refund My Spicejet Ticket?
How to Talk to SpiceJet Customer Care Service?
Customer Reviews