How Can I Reschedule My SpiceJet Flight Ticket?
16 Mar, 2021
Category:

Travel tips
Author:

Travomint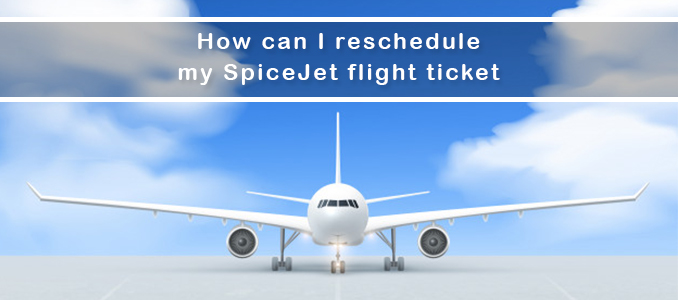 How Can I Reschedule My Spicejet Flight Ticket?
Reschedule your flight ticket through Travomint Contact our Customer Representative
SpiceJet is one of the major Indian passenger carriers. It is the second-largest domestic passenger carrier. It is headquartered in Indira Gandhi International airport and covers more than 50 destinations.
The best part is that with SpiceJet airlines, passengers can easily reschedule the flight. If you are looking for a way to reschedule my SpiceJet flight ticket then there are some steps to direct.
Steps for Rescheduling SpiceJet Flights Tickets
Go to the SpiceJet booking website
Click on "Manage my Booking"
Here you can manage the bookings, like reschedule, cancellation and rebooking
To access the current and previous booking, you have to provide the flight information and your booking information
Once you provide the details on provided space, then you can see the flights ticket
Go to the reschedule booking and follow the on-screen instruction
Here, you can reschedule the reservation whether it is a group or individual ticket. Though, many passengers get confused with the trip type. If your ticket is for one way, then there will no issues, but in case of multicity, you have to reschedule every booking
To reschedule flights, you have to bear some additional charges. However, the charges may vary and depends on the type of trip and the trip destination. For domestic flights, the rescheduling fee will be different as compared to the international flights. You can learn more about it when you complete the process of rescheduling
With these steps, you can easily reschedule the SpiceJet flight tickets. If you still have a query, then SpiceJet customer support can assist you.
---
What Are the Rescheduling Charges for Spicejet?
Some plans take time to be made. Some plans take time to be implemented, and some plans when implemented, have to face cancellation, changes, or rescheduling. This is a part of flight life. However, this thing can be exhausting.
What can be more exhausting is the absence of knowledge. Knowledge about whether you are allowed to cancel/ change/ reschedule your flight with the airline is important. Although it depends on the airline what it offers to its customers. Some airlines provide flexible policies for their passengers, while others don't. Take SpiceJet for instance, it provides convenient flight options to its customers. So, if you ask, what are the rescheduling charges for SpiceJet?
Can you reschedule your flight with SpiceJet?
Flight rescheduling depends on the type of flight you have reserved. If your flight is non-reschedulable, then you cannot reschedule your flight.

If your flight is reschedulable, then you can reschedule your flight with SpiceJet.

You can either reschedule your flight online by visiting the official website of SpiceJet, or call on the customer care number, or you can reschedule your flight at one of the reservation counters at the airport.
Rescheduling charges at SpiceJet-
For all the domestic sectors, any change made in the booking will cost 2250 INR. This charge will be applied per passenger, per change, and per sector.

If at the time of rescheduling, the same fare for the flight is not available, then you will have to pay the fare difference plus the change fee. The fees can get changed without prior notice.
These are the rules and rescheduling charges for SpiceJet. You can check the official SpiceJet website for further
---
Can I Change My Airline Ticket Date Spicejet?
Yes, one can easily change their ticket date on Spicejet airlines. This airline provides beneficial amenities and services to make travel comfortable and affordable for the passengers. Spice jet airline is one of the famous airlines of Gurgaon that allows you to make changes to your flight ticket. If you wish to change the airline ticket date SpiceJet, you should go through the mentioned information to avoid undesired charges.
If you want to make changes in your flight ticket such as date, time, you should inform us at least 2 hours prior to the scheduled departure of the flight.
Any difference of the fare will be charged additionally as eligible.
Changes in the flight ticket can be done at our reservation center or by going to the official website of the Spicejet airline.
Changes or cancellations done within 2 hours of departure or fail to check-in for a flight at least 60 minutes prior to the scheduled departure time will result in the fare being penalized.
Simple steps to make changes in your Spice jet airline flight booking:
1. Open the official website of SpiceJet airlines.
2. Next, click on the "manage my booking" option.
3. Here you can manage the flight booking such as changing, rebooking, or cancellation.
4. To obtain the previous and current booking, you need to provide the flight information and booking information.
5. After providing the details, your flight booking will be displayed.
6. Go to the changes/cancellation option and follow the onscreen instructions to complete the flight change process.
In this way, one can easily change the SpiceJet ticket date in a comfortable manner. For further help, you can contact the customer support team.
Customer Reviews