How can I book my seat in IndiGo flight?
30 Apr, 2021
Category:

Travel tips
Author:

Travomint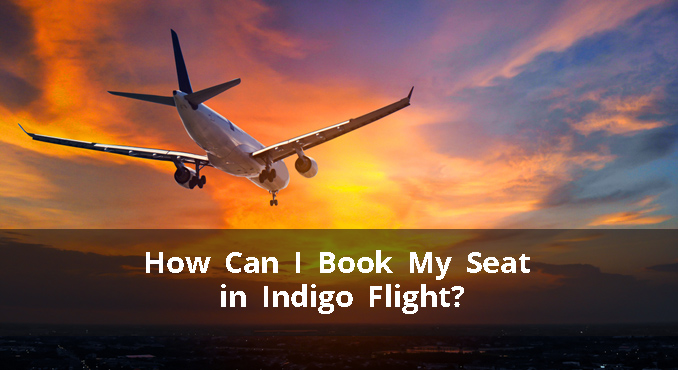 How can I book my seat in IndiGo flight?
The invention of airplanes has been proved to be the best invention ever. Airplanes have made it possible for people to fly. People can actually fly to different destinations. Therefore, air travel has become quite an important mode of transportation.
Airlines have also been making it easier for people to travel safely, comfortably and conveniently. The main motive of every airline is to serve its customers to its very core. Airlines also offer exciting flight discounts and follow flexible flight policies to provide convenience to their customers. One of the best things that has been offered by the airlines is the provision of selecting a seat for yourself in advance.
Who doesn't want to travel by plane sitting on their favorite seat? Everyone does! Now, everyone likes to sit on the window seat, but it is not necessary for you to get a window every time you travel. Well, there are other fish in the sea. You can always get another suitable seat of your choice. Airlines like IndiGo offer you the policy where you can choose the seat of your choice in advance and enjoy the journey joyfully. So, do you want to know how you can go through the IndiGo flight seat booking process? If yes, then continue reading to know the process.
Steps to book a flight on IndiGo-
Go to the official website of IndiGo.

You will find the entire flight booking process on the homepage of the website.

Fill in all the details of your trip and click on "Search Flights" button.
Follow the above mentioned simple steps to go through IndiGo flight booking process. You can also call the reservations team of IndiGo, or download the official mobile app of IndiGo to book a flight or you can contact any travel agency available on the internet.
Steps to book a seat on IndiGo-
Select the flight you will be flying in, then to proceed further, select the sector you wish to travel in.

Now, you will have to select "6E Seat & Eat on 6E" on the 6E Add-on tab. Select the meal you wish to eat on flight and the seat, and proceed further to pay for your booking

After the payment has been done, your 6E Seat & Eat will be booked.

A confirmation will be sent on your email address.
So, that is how you can book a seat for yourself in advance on IndiGo.
Contact IndiGo customer service-
You can contact the customer support team of IndiGo if you find any difficulty in going through the above mentioned processes.
Go to the official website of IndiGo.

Scroll down to reach the bottom of the homepage.

You will find the "Get in touch" section, choose the "Contact Us" option from that section and proceed.

After reaching the "Contact Us" page, you will find the helpline number and email address through which you can get assistance from IndiGo customer support team.

You can also chat with the virtual chat agent. On the homepage of IndiGo, you will see the "Ask Dottie" icon, click on that and a chat will get started.
You can get any help from the customer support team of IndiGo like how to go through IndiGo flight seat booking and can get other information and help as well.
Customer Reviews