What is The Flight Change Policy of Vistara Airlines?
31 Mar, 2021
Category:

Travel tips
Author:

Travomint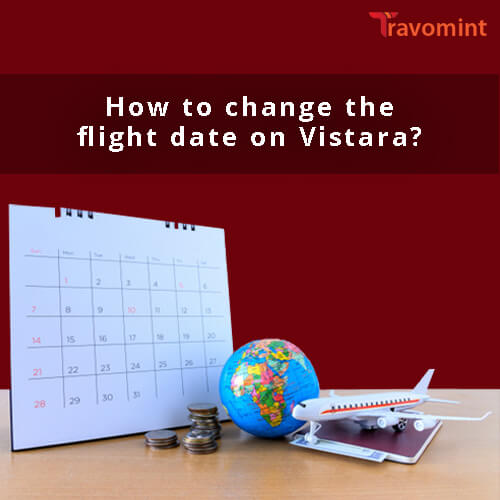 Vistara Flight Change Policy!
Are you looking for information about Vistara Airlines' policy for changing flights? If you need to implement adjustments to your booked flight with Vistara Airlines, you must first learn about their change policy. Aside from that, you must understand how you can change your Vistara Airlines flight. Therefore, the details about the flight change policy of Vistara Airlines are given below.
Know the policy to change a flight with Vistara Airlines?
You can get the information about the Vistara flight change policy by reading the points below.
Vistara Airlines allows passengers to change only the flights that they have booked online.
Vistara Airlines passengers may change their flight date, time, or route depending on the change flight policy.
Vistara also allows passengers to change their name on the ticket if they have previously provided it incorrectly.
Passengers must pay a fee of RS 2500 per person to apply for a flight change with Vistara Airlines.
How to change the flight date on Vistara?
If you wish to know that how to change flight date Vistara, or willing to make any other adjustment, you can follow the procedure· Visit the Vistara Airlines website and go to the Manage My Booking tab
Then enter your booking reference and also the last name in the assigned section
Press submit to check your booked flight details then choose the one you wish to change
After that, you can make the change in your flight then pay the applicable fee
Finally, Vistara will send you a notification regarding the change you have applied
With Vistara Airlines support, you can easily change your flight using their policy. You may also contact a Vistara Airlines customer service representative for more details.
Can I Reschedule My Vistara Flight?
When you make a plan, you don't intend to change it, however, it might get changed due to unforeseen reasons. When you change a plan, you may want to cancel your flight or make changes in your booking. Whether you can make changes in your flight depends on the airline.
Some airlines offer flexible and convenient policies to the customers while others offer rigid policies. However, if you have booked a flight with Vistara, then you can enjoy the customer-friendly policies offered by Vistara. So, if you are wondering, can I reschedule my Vistara flight? Then, you are going to get your answer today.
Terms and conditions to reschedule a Vistara flight-
Yes, you can reschedule your Vistara flight. However, the rescheduling of the flight may be subjected to some terms and conditions. Keep reading to know some of the terms and conditions of rescheduling the flight.
The rescheduling of the flight is available on the flights that were booked via the official website of Vistara or through the mobile app of Vistara.
Any changes made in the booking can be done by the Vistara Customer Service Center.
If you want to reschedule your flight then you can do it within 24 hours of the purchase of the ticket.
The service of flight rescheduling is only available for the flights to be traveled within India.
These are some of the terms and conditions to be considered while requesting to reschedule a flight. However, if you are still confused about can I reschedule my Vistara flight or not, then you may visit the official website of Vistara for more information.
Customer Reviews