Is September a Good Time to Visit the Andaman and Nicobar Islands?
26 Aug, 2022
Category:

Travel tips
Author:

Travomint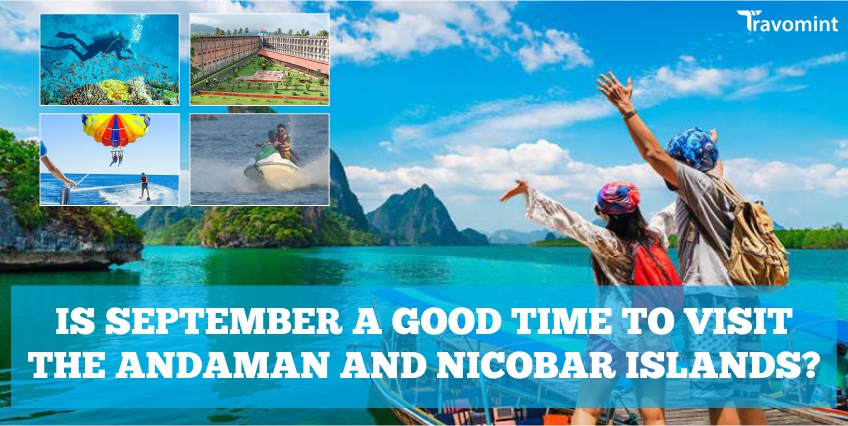 Is September a good time to visit the Andaman And Nicobar Islands?
September is a Good time to visit Andaman And Nicobar Islands since this month is likewise a month when the vacation time is not at its peak. In September, the climate in Andaman and Nicobar islands is set apart by intermittent rains. The monsoon shows up the first on this island before hitting the Indian continent, and this region experience rainfall for almost a half year. The islands and the vegetation turn lavish green with the beginning of the monsoon and the rain.
Generally, the months from November to March are liked best times to visit the island of Andaman And Nicobar island, and many individuals visit this place during these times. Few individuals do not know how they can see the Andaman And Nicobar Islands in September, and this month unquestionably brings a few exceptional experiences to offer.
Reason why you should Visit Andaman And Nicobar Islands in September:
Intermittent shower and the beautiful cloudy sky
Green all around, lesser traveler crowd experience magnificence of monsoon
Downpours can hamper plans. Watersports remain closed at this time.
The places to visit and Things to do if People Plan to Visit Andaman And Nicobar Islands in September Month.
If you intend to visit Andaman And Nicobar Islands in September, you will, without a doubt, enjoy a ton of quirky things and be essential for memorable encounters. The following are a couple of things you can do while out traveling to Andaman And Nicobar Islands.
Relax your brain and body and cut off from the regular hectic life.
Andaman boasts palm forests, tropical rainforests, tranquil beaches, sky blue water, and mangroves. During September, with lesser groups on the beaches and low hotel inhabitances, you can enjoy your excursion here at a reasonable rate.
You can be in direct contact with the peacefulness and serenity of nature. There are no unsettling influences. The sight of verdant stretches of the island because of the monsoon will alleviate the mind.
Go birdwatching
The Andaman and Nicobar islands are home to many types of birds and act as ideal spots for birdwatching. Chidiya Tapu is a tiny part of lavish green backwoods known for birdwatching. Birds like Woodpeckers, Eagles, Andaman Drongo, sunbirds, Kingfishers, and many more can be spotted.
Gorge on seafood
With water overall around these islands, it is heaven for seafood lovers. The Andaman islands are home to some of the best marine life. The absolute most enormous crabs can be tracked down here, and the Lobsters here are incredible.
During September, you can utilize this chance to have some new fish around the ocean. The excellent weather conditions likewise give sublime energies. A portion of the famous cafés for fish here are Red Snapper and Mandalay.
The Sum up Why You Should Visit Andaman And Nicobar Islands in September
It is unquestionably fun to visit Andaman in September as it gives an entire scope of fascinating and remarkable encounters. The whole scene turns verdant green with the monsoon showers, and it is a visual pleasure to see the scenes and the purplish blue waters of the sea. You can plan your schedule simply how you need to and the places you need to visit. If you merely have any desire to unwind and enjoy the lovely view from your hotel, you can do as such.
The climate in Andaman And Nicobar Islands in September is likewise beautiful for a decent excursion. Indeed, September is a Good time to visit Andaman And Nicobar Islands. There may be chances of showers. However, they are no heavy or continuous rain during this time. The weather conditions are charming. So, Relax and enjoy the magnificence of this beautiful landscape.
Customer Reviews