How Can I Change my Flight Ticket Date in Air India?
26 Aug, 2021
Category:

Travel tips
Author:

Travomint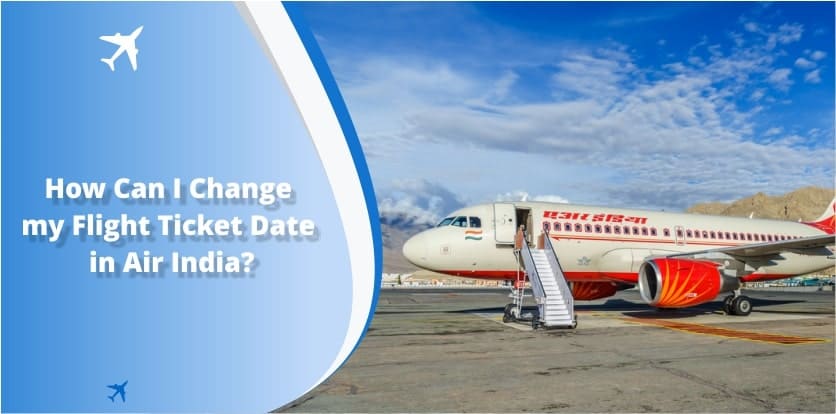 Change Air India Flight Ticket Date
Now no worries if you are searching for something like change my air India flight ticket because Air India has earned a unique place among its competitors due to its unique policies and services to the passengers for the air India reschedule process. It has a very lucid and transparent ticket booking system where you can book tickets to your destination.
The conditions of getting your flight date changed are -
In case of change of plan, you can opt for the option of 'change my air India flight ticket'
Any urgent unforeseen incident at home/office or family
Avoiding too much long stay at a certain place
Fear of getting stuck on those particular days
The change in date of flight in air India reschedule process is not a very complex process as deemed by many of the passengers. After booking the tickets Air India representatives are always there to assist you to reschedule the air India flight irrespective of the time or task.
They are always available for you and in case of a communication gap, they get in touch with you back seeking your stage of the problem so that they may assist you in overcoming these petty challenges. Under any circumstances, you shall not be left alone in case of any trouble regarding 'change my air India flight ticket'.
Air India Flight Ticket Change Process
The process of getting your ticket date changed in the air India reschedule process is-
Put in your PNR details. Provide your PNR/booking reference number along with email ID/last name in the space provided
Tap on 'Change flight' then proceeds further to reschedule the Air India flight
Choose your flight. Select the flight in which you wish to travel
Choose your preferred date
Select your new preferred flight
Click on 'Finish' and your flight has been changed
Air India Flight Ticket Change Policy
The change in date of the Air Indi ticket is no more a very complex task. It has its own set of conditions under which it can be changed. Not all the tickets fall under the category of change of date in the air India reschedule process.
All the terms and conditions are laid open in a very orderly manner at the time of booking but then also if any passengers miss the details then there are various means such as customer care, social platforms and others which give you proper guidance regarding alteration in date of flight and remove all kind of troubles in the process to reschedule Air India flight.
The features of 'change my air India flight ticket' is as follows-
The ticket must not have expired
No charges shall be levied if changes are made within 24 hours of booking.
Alteration shall be possible till 24 hours before the scheduled flight.
The change of destination in air India reschedule process shall fall under the head of re-booking of the ticket which shall be a completely new process
This facility is to make changes in the date of flight only, any other change such as a change in name; etc must be done from the proper channel.
The difference in charges according to date shall be levied on the passenger
The details of change my air India flight ticket in the case of rescheduling the Air India flight can also be attained through various other sources if you are not able to access the website properly. Air India has made proper arrangements for all kinds of alternatives.
In any case, the priorities of the passenger shall never be left untouched. Air India takes proper note of the alternatives that the passengers are always in a condition to get in touch with them one way or another in the air India reschedule process.
You can get assistance from-
Official website
Mobile application
Customer care
Official mail id
Chatbot
Any other toll-free number
Air India shall also be there to assist you in whatever the situation is. Customer care has always been the best option to reschedule an air India flight if you ever face any kind of inconvenience in the process by yourself.
You can use the Chatbot where it provides you automated replies for your general queries. if you go further deep which is not in the capability of the automated Chatbot, it redirects you to the portal concerned on its own.
You get the option of going to the direct link of alteration of name on the website and contacting the customer altogether. Now it rests on you- what option you choose. That is based on your convenience and you shall never feel yourself to be at the back foot while operating air India services.
Customer Reviews